The professional pallet CN57 coil nailer is a versatile and reliable tool that is essential for building and construction purposes. Designed specifically for driving large coil nails, it is an efficient and powerful device that makes the job easier and faster.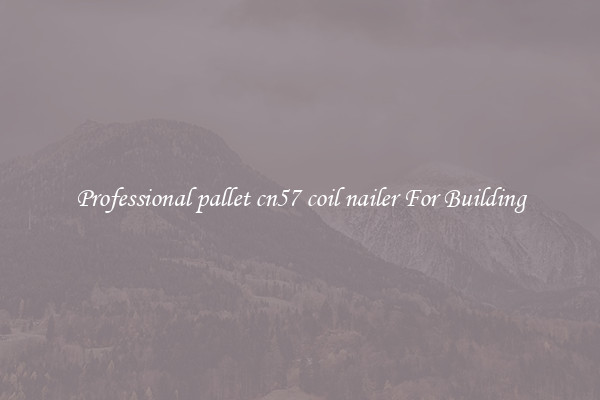 One of the key features of the CN57 coil nailer is its durability and sturdiness. It is built to withstand heavy-duty use and can endure the harshest of work environments. With a robust design and high-quality materials, it can handle the demands of construction sites day in and day out.
Furthermore, this coil nailer is highly efficient in driving nails into pallets and other wooden structures. The CN57 coil nailer has a pneumatic power system that delivers consistent power and precision with each drive. The adjustable depth control feature allows users to set the desired depth for nail penetration, ensuring accurate and secure fastening.
Moreover, the CN57 coil nailer has a high capacity magazine that can hold up to 300 nails at a time. This eliminates the need for frequent reloading, saving time and effort during the building process. The coil magazine also reduces the risk of jamming, ensuring continuous and uninterrupted workflow.
Another advantage of the CN57 coil nailer is its ergonomic design. It has a comfortable grip and well-balanced weight distribution, reducing operator fatigue during extended use. This feature is important for construction workers who often have to work for long hours.
The professional pallet CN57 coil nailer is also easy to operate and maintain. It has a tool-free depth adjustment feature that allows users to make quick and hassle-free changes. The tool-free jam clearing system ensures that any nail jams can be quickly resolved without the need for additional tools.
Overall, the professional pallet CN57 coil nailer is an indispensable tool for building and construction. Its durability, efficiency, and ergonomic design make it a reliable choice for professionals in the industry. With its high capacity magazine and adjustable depth control, it provides accurate and secure nail fastening. Whether it is for pallets or other wooden structures, this coil nailer is an excellent investment that will significantly improve productivity on the job site.